Global Vision Group Mined & processes its Natural Resources Non Metallic & Metallic world best quality Marble & Granite, Sand Stone , Slates , Phyllitte , Quartz lime Stone , Dolomite ,Barytes Calcite Clay , Silica Sand , Soap Stone , Emerald , Feldspar garnet, Gypsum, at two state-of-the-art manufacturing facilities where our magic with marble granite begins with raw material from own quarries in Makarana ,Rajasthan as well as carefully identified independent ones.
Processing the finest raw material, using the best consumable s from around the world. Global ensures the production is only the best. Our product range includes a wide array of random slabs, tiles and cut-to-size. Our mantra is to use our expertise to cater to each customer's needs by offering excellent products and services at competitive prices. With a vision to deliver world-class quality to its customers, the company implemented the latest technology from Italy, and ensured that it was operated by the most skilled engineers and professionals who were carefully hand-picked by the company''s key stakeholders.

Marble

The term "Marble" is derived from Latin word "Marmor" which itself comes from the Greek root "Marmaros" meaning thereby a shining stone. Technically marble is a recrystallised, compact variety of metamorphosed limetone capable of taking polish. Commercially, marble is any crystalline rock composed predominantly of calcite, dolomite or serpentine, having 3-4 hardness, which can be excavated as blocks and can be sawed and takes good polish.
Nagaur : Makrana, Borawad (white), Chausira, Dungri, Paharkuan (pink), Kumari, Ulodi, Pink Range, Kala Nada Talab.
CLASSIFICATION
Our Makrana Marbles has been classified into 10 groups by Bureau of Indian Standards (Indian Standard Institute i.e. ISI) (IS 1130-1969) on the basis of colour, shade and pattern.
Makrana Super White marble
---
Morwad Super White
Albeto Super White (Black)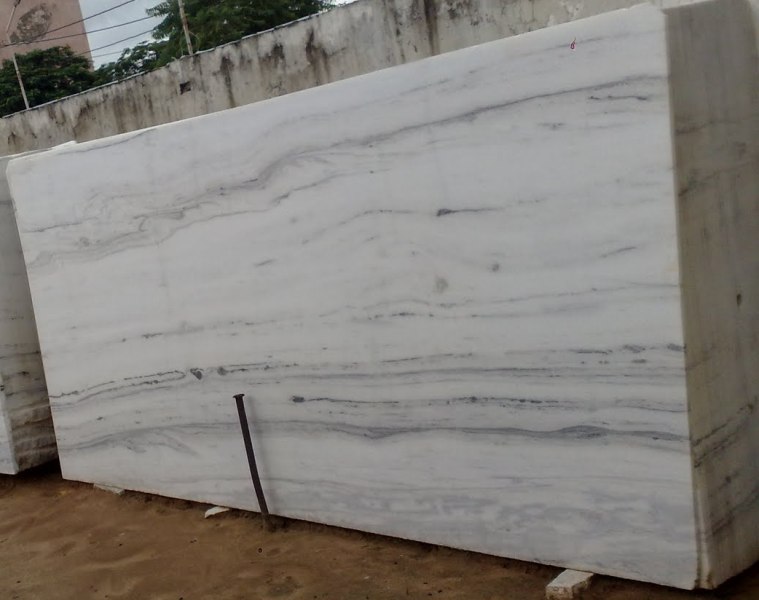 ---
Makrana Pink
Albeto Super White (Brown )
Makrana Super Light Pink
Makrana Adanga White
Makrana Adanga White (Brown)
Makrana Brown
Dungri White Marble
Makrana Pink
Baswara White
Agariya White
Agariya Second White
---
Arna White Marble
---
Andheri White Marble
Bani White Marble
---
Black Marble
---
Bhaswara Off white Marble
---
J K White Marble
---
Jaislemer Yellow Marble
Kali katni Marble
katni Marble
katni sea off Marble
Sawar Marble
katni Tan Marble
Global White Marble
A large number of processing centres have been developed in the state at Makarana, Jaipur, Alwar, Ajmer, Udaipur, Nathdwara, Rajsamand, Morchana, Amet, Abu Road, Kishangarh, Banswara, Chittaurgarh, Sirohi etc. where nos of gangsaws and automatic tiling plants are in operation.
Granite :
The term "Granite" is derived from latin word "Granum" meaning "grain" because of its granular nature. Rajasthan is well known since time immemorial for its building and dimensional stones like Marble, Sandstone, Limestone, Slate etc. Recently granite has also been added to this list. Granite occupies a prominent place among dimensional stones on account of its hardness, durability, capability to take mirror polish and fascinating colours. As such the use of granite has increased many fold as dimensional and decorative stone all over the world and this has created a good export market for Indian Granite.
Granite has a 95% share in India's dimensional stone export. The export of high value added items like tiles, polished slabs and monument stones has increased by over 50% average growth rate per year .
Our Mines & Quarry are located in :
JALORE: Nun, Kalkaji, Raniwara, Khambi, Saphara, Bibalsar, Bruti Kawala, Roja-Bhakar, Keshwana, Kola-Ki-Ghati, Kala-Ghati, Taskhana, Dungari Leta-Dhawala, Kota-Kasta, Tavab, Maylawas, Nabi-Bhetala etc.

SIROHI: Abu,Veerwada-Arasanaji, Mer-Mundwara, Koteshwara, Sanpur-Siyankara, Idarla, Padru Khera, Meerpur, Amlari, Wan, Jeerawal, Dantaria, Shivganj, Anapura, Jhar, Sivera etc.

BHILWARA: Gyangarh-Thana-Phakoliya, Katar, Bor-Ka-Bariya, Janarda, Dhaneri, Naya Talab, Sabadara, Nareli, Charon-Ka-Bariya, Karera, Dhani-Somani, Dhikola, Badnor, Bheru Khera, Kidimal, Udai Ram Ji Ka Guda, Rampuria, Shivpura, etc.

PALI: Bar-Sendara (Jhala-Ki-Chowki), Chittar, Manihari-Bala, Paldi, Sumerpur, Erinpura, Nana-Beda, Sarthur, Rani, Nadol-Narlai-Vinpura, Kot-Samariya, Kharda-Kerala, Dharamdhari, Jawaria, Netra, Jhakhora, Khidara, Kothar, Dani-Dantiwara etc.
Shade In Black Granite :
---
Absolute Black Z Black Rajasthan Black
---
Galaxy Black Telephone Black Pearl Black
Impala Black Makrana Black Acute Black
---
Shade In Flamed Grey Granite :
Flamed Grey Flamed Platinum Grey Sparkle Grey
---
D K Grey Majestic Grey Makrana Grey
---
Shade In White Granite :
Kashmiri White Imperial White Makarana White
---
Shade In Red Granite :
Lakha Red Bruno Red Classic Red
---
Sindoora Red Jhansi Red Olive Orange
---
Shade In Brown Granite :
Makrana Brown Tan Brown Coffee Brown
---
Panther Skin Brown Balaflower Brown TigerSkin Brown
---
Shade In Blue Granite :
Makrana Blue Himalayan Blue Vizag Blue
---
Flame Blue Pisado Blue Jalore Blue
---
Shade In Pink Granite :
Rosy Pink Chima Pink Rawsilk Pink
---
Shade In Green Granite :
Udaipur Green Vizag Green Mokalsar Green
---
Hassan Green Kerala Green Tropicana Green
---
Shade In Golden Yellow Granite:
Jalore Golden Ghibli Yellow Madhurai Yelow
---
Rawsilk Golden Rawsilk Tan Rakhi Flower
---
Sand Stone :
Sandstone may be defined as a stone made up of grains of quartz and other minerals of fairly uniform size and often smooth and rounded. These grains are held together by a cementing material which may be siliceous or ferruginous. The toughness of sandstone depends mostly on the nature of this cementing material.
Global Vision Group Rajasthan Mines being the largest producer is an important sandstone producing .It is an excellent building stone. This can be chiseled and dressed to a smooth surface in various attractive shapes. The sandstone has a verity of uses such as roofing, flooring, paving, paneling, beams, pillars, arches, doors and window sills, wall facing, fence posts, mile stones etc. It is especially useful for exterior cladding in sea shore buildings due to acid & thermal resistant properties. As such the effect of saline winds is negligible on sandstone. It is also suitable for use in chemical industries as flooring, wall fixing & lining due to its acid and alkali resistant properties. It is also suitable for carving and making windows and jallis. The sandstone is being quarried and used from centuries and a number of historical buildings and monuments such as Budhist Stupas of Sarnath, Red Fort, Sansad Bhawan, Rashtrapati Bhawan, and National Museum , Delhi; Chhitar Palace, Jodhpur etc. are made of sandstone.
Our Mines of Sandstone from rajasthan are of regular bedding, uniform grain size, suitable nature and durability,has been used extensively not only in Rajasthan but also in Northern India and even exported to Canada, Japan, and Middle East countries.Our Own Mines located in parts of Dholpur, Bharatpur, Karauli, Sawai Madhopur, Bundi, Jhalawar, Kota, Bhilwara, Chittaurgarh Jaisalmer and Baran districts in eastern Rajasthan and in scattered form in Jodhpur, Nagaur and Bikaner districts of western desert plain .
Khatu Tekwood Khatu Rainbow
---
Dholpur Berge Dholpur Brown
---
Jodhpur Pink Jodhpur Red
---
ITA GoldStone Golden Flower